Paragliding in Kamshet
Nestled in the lap of the Sahyadri mountain range in Maharashtra, India, Kamshet is a paradise for adventure enthusiasts, particularly for those who seek the thrill of paragliding. This picturesque town, with its lush green landscapes and gentle breeze, offers the perfect setting for an unforgettable paragliding experience.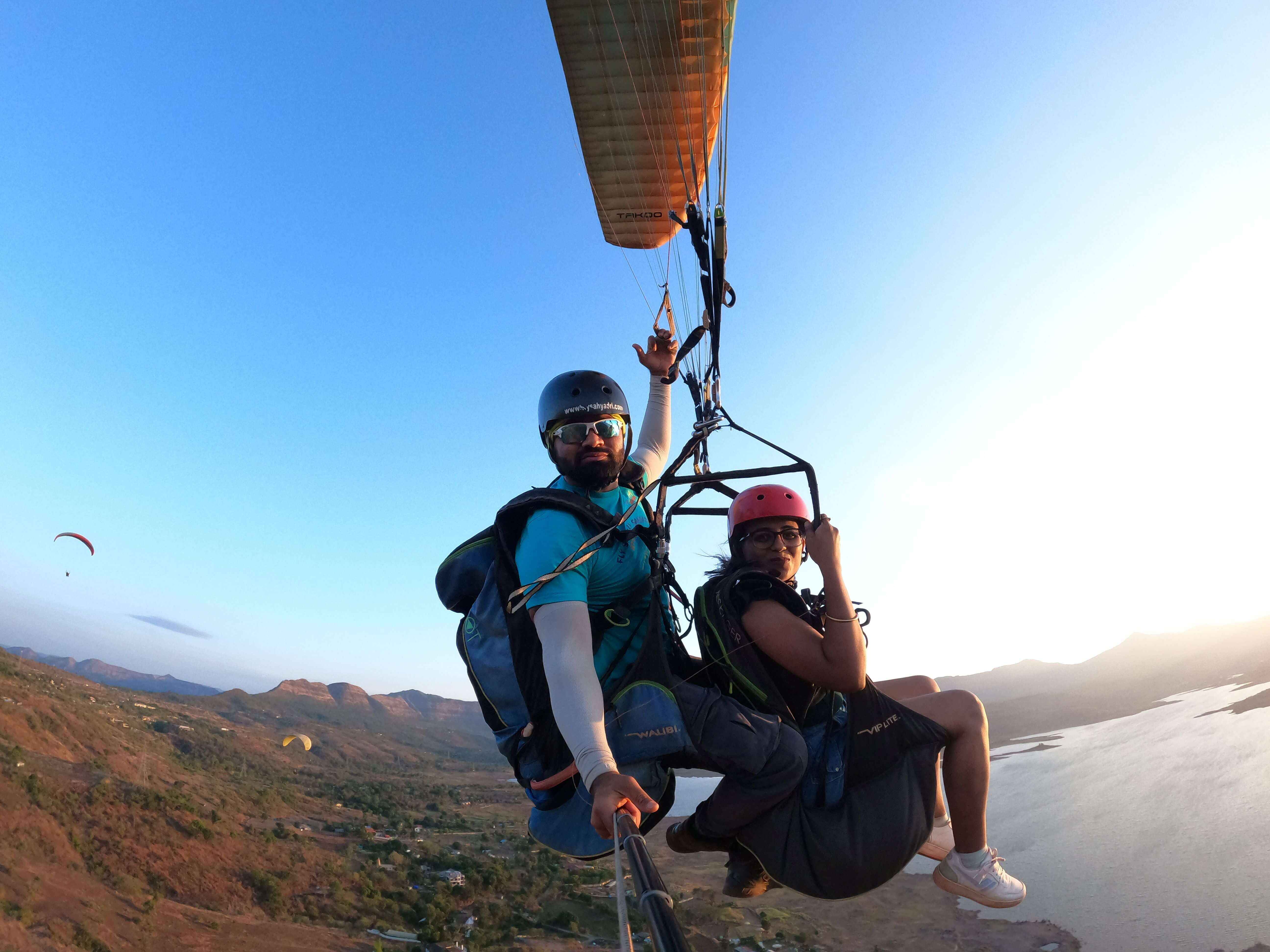 1: The Charm of Kamshet:

Located approximately 110 km from Mumbai and 45 km from Pune, Kamshet is a serene and quaint town surrounded by serene lakes, ancient caves, and verdant hills. Its proximity to major cities makes it a convenient destination for a quick escape from the bustling urban life. Visitors are drawn to its pleasant climate, breathtaking vistas, and the unique opportunity to experience the adrenaline rush of paragliding.

2 : The Ideal Season for Paragliding:

Kamshet's ideal paragliding season runs from October to May, offering a delightful mix of cool temperatures and gentle thermals. During this period, the weather is relatively stable, ensuring safe and enjoyable flying conditions. Paragliding schools and operators are fully functional during these months, providing enthusiasts with ample opportunities to take to the skies.

3: Paragliding Schools & Expert Instructors:

Kamshet boasts an impressive array of paragliding schools, each equipped with certified and experienced instructors. Whether you are a seasoned paraglider or a complete novice, these schools cater to all skill levels. Beginners can enroll in comprehensive courses that cover the basics of paragliding, safety protocols, and flight techniques. The instructors ensure that participants gain confidence in handling the glider and understanding the dynamics of flight.

4: The Take-off Points:

Kamshet is home to several take-off points, each offering a unique perspective of the breathtaking landscape. Tower hill Kamshet, Pawna Flying Site & Shelar ridge Karanjgaon are some of the prominent launch sites that offer a thrilling experience for paragliders. As you launch from these sites, you'll be greeted with a panoramic view of the surrounding valleys and lakes, making it a surreal experience.

---
Copyright © 2023 Fly Sahyadri